Later on this week I'm going to talk with an experienced buyer and broker of non-performing second mortgages. Earlier this month when I received my Paper Source newsletter there was an article about buying non-performing second mortgages.
Are you familiar with the phenomenon of when you start looking at buying a red Volkswagen suddenly there are red Volkswagens everywhere you look?
Yeah it's like that.
But I digress… If you've read any of my stuff then you know by now that I cut right to the chase and I rely heavily on real data. This post will be no different.
Before we get into this, however, you need to understand that I'm not a banker or an accountant so feel free to challenge me in the comments if you like.
Banks Want to Liquidate Non-Performing Second Mortgages
What I'm going to try to demonstrate in this post is why. The reason banks want to dump non-performing "second mortgages" or junior liens is because they have a disproportionate negative affect on their balance sheet.
Bear with me here. If you read my stuff then you know I can get a bit… dry.
The reason I dwell on what's going on underneath it all and on the data is because it's that knowledge that is going to help make you a professional. If you don't know why you're doing what you're doing then very often you're not going to do it very well (I want you to do it well ) and beyond that you're going to miss opportunities.
You could be having a conversation with a workout officer and zzzzoom stuff she's saying goes right over your head. You're wondering what she was talking about, she gets the sense that you DON'T know what you're talking about or in any case there's that silent chill that happens when two people fail to connect and then poof… no relateability and you are o-u-t out. So… Consider this guidance from the FDIC website:
Under the proposed rule, 1-4 family residential mortgages would be separated into two risk categories ("category 1 residential mortgage exposures" and "category 2 residential mortgage exposures") based on certain product and underwriting characteristics. The proposed definition of category 1 residential mortgage exposures would generally include traditional, first-lien, prudently underwritten mortgage loans. The proposed definition of category 2 residential mortgage exposures would generally include junior-liens and non-traditional mortgage products.
WHOAAA, if you read that and it just makes you dizzy and you hate it let's back up and break it down. Here it is – there are 2 categories of risk for residential liens. Second mortgages (second position mortgages) fall into the second. Now consider this table below. Second mortgages are in the second column. Look it over. I'll meet you at the bottom of the table.
LTV ratio

(in percent)

Risk weight for

category 1 residential mortgage exposures (percent)

Risk weight for

category 2 residential mortgage exposures (percent)

Less than or equal to 60

35

100

Greater than 60 and less than or equal to 80

50

100

Greater than 80 and less than or equal to 90

75

150

Greater than 90

100

200
OK. So this begs (at least) 2 questions.
What's risk weighting?

Why does this make the non-performing second mortgages worse for banks – what's the impact?
Risk weighting is just what it sounds like. Some loans are riskier than others and so different "weights" are assigned and those weights then impact the balance sheet and in this case we're talking about capital adequacy ratios. Banks have to maintain certain levels of capital and you can read more about that here or here.
In short, the calculation puts capital as the numerator and risk weighted assets as the denominator. Therefore the bigger the denominator (the risk weighted assets), the lower the ratio,  – the bigger the drag on CAR (capital adequacy ratio – remember division? denominator down, numerator… nup).
If CAR falls below acceptable levels then red flags are raised, regulators move into the cube next to you and there's a real risk that you'll be shutdown if the problem persists (if you're a bank).
As you can see in the table above, in the far right column (category 2), junior liens are weighted much higher than first position liens (category 1). At the top end of the scale junior liens are weighted at 200%.
Thus, disposing of troubled junior (second) liens, pound for pound, has disproportionally more positive impact on a bank's balance sheet.
Banks can cash those juniors out by selling them to you. They recover what capital they can and their ratios improve. Make sense? So the obvious follow up question…
But How Do I Make Money with Non-Performing Second Mortgages?
Well… you'll have to listen in on the call I'm going to record this week BUT if you're a subscriber now you can listen to the last one we did on making money with non-performing second mortgages right here.
---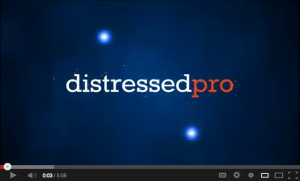 Distressedpro.com members have access to a continually updated training library of video, audio, and transcripts from experts in the distressed assets business. More than that, they have access to powerful software that gives unprecedented, instant access to the financial and contact data of banks with REO and late and non-performing loans. Learn more