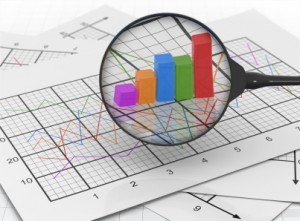 Since we launched our 2.0 version back in November I've had an opportunity to speak with a lot of subscribers and would-be subscribers. The feedback that I'm getting is what's driving our product direction. We've started making some updates and I want to share them with you.
More Distressed Debt Data
Although we started out building this product exclusively for real estate investors and professionals what we found out is that we have a lot of private equity investors and other independent investor subscribers who buy bad debt. You'll notice that all the data that was there before is still, plus we've added 4 new distressed asset categories and the tabs are now shown like this:
CRE – Commercial Real Estate (non-farm non residential, not multifamily)
MULTI – Multifamily (5+ residential units)
CONST – Construction (1-4 Family or commercial construction and land development)
RESI – 1-4 family residential loans 1st, 2nd, and HELOCs
LAND – Agricultural land
C&I – NEW Commercial and Industrial (business loans)
AUTO – NEW Automobile loans made to individuals or households, not businesses
CARDS – NEW Credit cards issued to individuals or households, not businesses
OTHER – NEW Other open-ended or revolving consumer debt
Right now every individual bank is showing the new data categories I've mentioned above. Over the next couple of weeks the state and US stats and bank counts will be fully implemented. Look for those numbers to start populating on July 1st.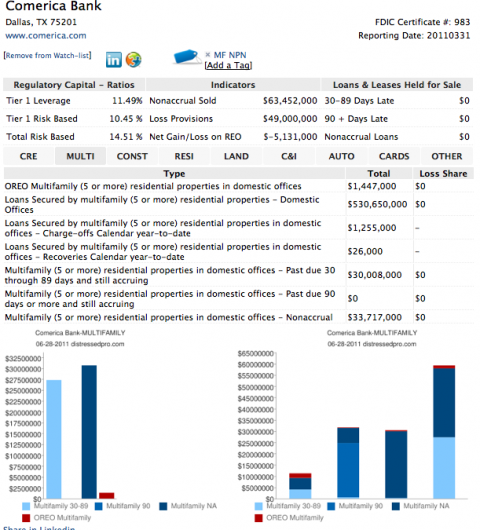 We're not changing the pricing for now and if you're a subscriber or if you become a subscriber under the current pricing your rate will remain the same for the life of your subscription. Do expect, however, to see the pricing increase or the model change as the product evolves and the data grows.
After this round of updates we're looking at implementing 'flags' or 'hotlists' or other indicators that will make it even easier to identify banks that need to sell distressed assets like REO and non performing notes. Some ideas in that endeavor include:
Banks sorted by Texas Ratio
Banks Searchable by Loss Share Agreements
Comparative flags that would indicate how an institution's numbers stack in relation to it's peers
Lists of banks selling non accrual assets (actually you can do this now but we'll make it easier)
Easier to Read
If you're a paid subscriber you'll notice that on the US and state overview pages we've done away with all of the long descriptions in favor of shorter ones, we've increased the font size, and we've divided the commercial, construction, and residential assets into easier to read categories.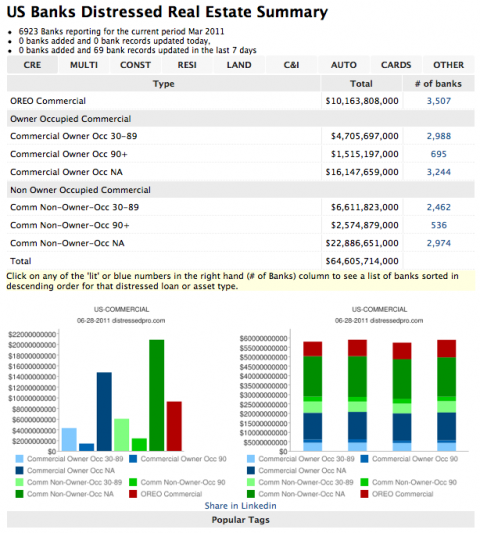 Over the coming month we're working on:
Increased Speed – Our database is absolutely enormous. Over 7GB (Gigs) enormous. To put that in perspective an entire Windows 7 operating system is only about 2.5GB. Our system sorts and parses millions of points of distressed asset data. The problem that comes with this is speed. We're restructuring how much of the data is stored and retrieved and we expect a notable increase in speed when we're done.
Better Displays – Look for more descriptive more interactive charts and data presentation in the coming quarter.
As always we're very interested in hearing from our subscribers (or would-be subscribers) and we'll maintain our goal of providing the best possible distressed asset prospecting platform in the business.