The reason I write these bank failure reports is so that you can get a good look at what does or does not make a good bank prospect. If you're looking to buy, service, or sell non-performing loans or REO with banks it pays to know something about your prospects.
Just because a bank has REO or non performing loans, even in large volume, that doesn't mean they can sell or even that they want to sell, even if they're talking or acting like sellers.
Side Note: Members will notice that we're now showing late and non-performing C&I, auto loans, credit cards, and other household personal debt on all our bank records. This will give us a more holistic view, and more prospecting opportunities for note buyers, of what's happening at any given bank. More about this in a future post.
McIntosh State Bank, Jackson GA – Failed
Could we have known, before we started calling on McIntosh State Bank that they were not long for this world? Yes. Most definitely we could and here's why.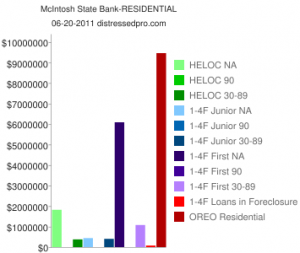 Capital Adequacy Ratios
Tier 1: 1.27%
Total 2.54%
Nonaccrual vs Charge Offs:
Commercial $12,378,000 – $1,000
Construction $7,854,000 – $0
Residential $6,694,000 – $1,000
Look at these nonaccrual vs charge-off numbers above. Is it even possible that this bank is being honest about the value of that they're holding? Numbers like this are a clear sign that the bank is unwilling and/or unable to sell at real market prices.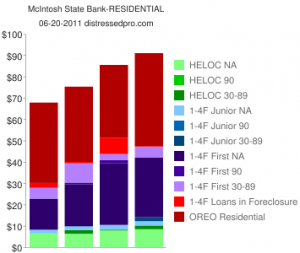 Healthy banks will have a minimum tier 1 CAR of 4% and a total CAR of 8% or more. When banks are inadequately capitalized and they're not charging anything off they will not sell late or non performing loans or REO because they can't afford to. Because if they do and they're not able to achieve the values that they have the assets at on their books their ratios will plunge further and the sale would only serve to hasten their demise.
On what some would say is the positive side McIntosh had booked in a good portion of the problems as REO. On the negative side quarter after quarter they failed to sell, as you can see in the 4 quarters chart from BankProspector that I attached here.
First Commercial Bank of Tampa Bay, Tampa FL – Failed
First Commercial bank of Tampa was small, real small. The fact is that yes they were undercapitalized and real estate took a big bite out of them.
Capital Adequacy Ratios
Quite simply this bank had an inordinately high rate of default and not a lot of capital. Over 30% of their commercial real estate portfolio was in late or non accrual status or else in REO. More than 29% of their multifamily portfolio was in nonaccrual.
When a loan goes into 'nonaccrual' status it means that there is no longer any hope of that loan being repaid according to terms. This is where you'll find most of your loan purchase/sales opportunities but again, you want to find a bank that is healthy enough to sell.
McIntosh was acquired by Hamilton State Bank which is exceptionally well capitalized, and Hamilton will be taking commercial and residential assets under loss share agreements.
Stonegate is also very strong though it appears from the assumption agreement that Stonegate will not be taking any assets under loss share agreements. This likely means that the FDIC will be disposing of those assets.