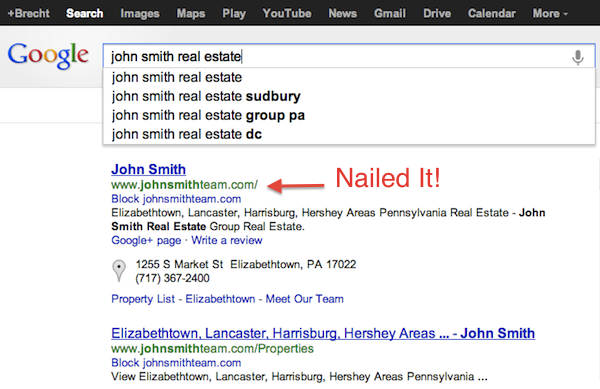 Google your name right now. What do you see?
If your name is John Smith the fact is that you probably don't see anything about yourself on the first page of results.
What about when you Google "John Smith Real Estate"..?
What about "John Smith Real Estate Yourtown, and State"?
There are two things you have to ask yourself (ask Google really) right now (in a new browser window).
Do I show up? (If 'no' proceed to the next section)

Do I like what I see? Is this representative of 

me

?
If you're not showing up at all well that's one problem… If you are showing up and you don't like what you see or if you feel it's not representative of you then you've got another bigger problem.
Think about this: Every single new person you're trying to do business with is going through the exercise above -WITH YOUR NAME.
It's not that some people do it, its' not that somebody might do it, everybody is doing it – each time before they meet you. They might be googling you right now.
Every new potential bank client, every note buyer, every asset manager, every cash buyer, every single prospect is googling your name and refining the search until they find (or don't) results that they think are you.
Whatever they find, now that's who you are – in their mind.
If there's nothing about you, you're nobody. If there are party pictures of you – that's who you are. If there's some get rich quick thing you did once on a whim 3 years ago – now that's you.
Let's Fix Your Google Problem
If you're not happy with what you see then the number one thing you should do right now, not later, right now, is register your own domain name that's your FirstnameLastname.com. Yes, register your name as a domain name.
"But I have a company, shouldn't I use that as my domain?"
Sure you should but what we're talking about right now is claiming YOU on the web. If your first and last name aren't available try adding your middle initial or an appropriate real estate word at the end.
Domains are cheap, they're going to cost you $10-$15 PER YEAR. Is your reputation and therefore professional existence worth insuring for a buck a month? If your answer is no I've got to wonder how you made it this far down the page already.
It's not enough just to buy the domain, that's a great start, but you're going to need at least the most basic website…
WAIT – don't freak out you don't have to know how to code anything these days it's straight up point and click. If you can use Microsoft Word you can get a basic site setup.
I recommend that to get started you use Bluehost, they're super inexpensive and you can setup a website on the exact same platform as this very site that you're reading right now with their famous 1 click install and it's where I got this site started almost 4 years ago.
If you don't like what you see right now when you Google yourself (hehe) and you want to fix this let me know in the comments or email me at brecht.p at distressedpro.com and let me know. If there's enough interest I'll put together a whole series on how you can grow your presence online, get more credibility and trust, and ultimately get more clients and customers, and make more money in real estate.