I have a confession to make: I'm an Inc 500 junkie.
Every year when it comes out I pore over the list. I'm fascinated with business growth and profitability (do I sound like fun or what?).
This year I noticed something about the real estate companies on the list…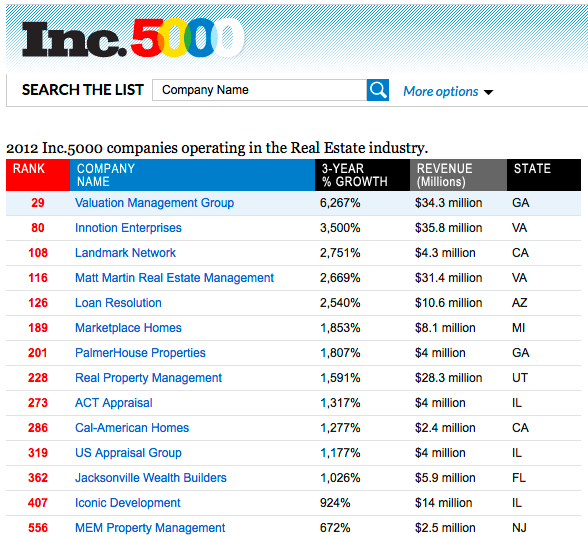 Nearly every one of them is servicing bank REO or defaulted loans, and those that aren't have taken a unique approach to solving a problem specific to today's market.
Provides appraisal management services for lenders
Provides property management services for banks
Provides a range of services around loans that are in default
Provides appraisal management services for lenders
Manages the sale of foreclosed homes
Provides appraisal management for lenders
Is your business growing the way you want it to?
If your answer is "no," then what are you doing about it?
I get email daily in which I'm asked a variety of questions. One question I get all the time is, "How long do you think this is going to last"? When I get this question I just point to the data. It seems pretty clear from where I sit that we're in this for awhile. How long exactly? Nobody knows.
So you can hem and haw, you can ask how long this will be going on, you can wonder if you can really make any money and if banks are really selling at all, and you can be worried about what bankers will say when you call them. Meanwhile, there will be people who are cleaning up.
Figure out how you're going to take advantage of the opportunity while it's here today or just wait and wonder, resigning yourself to the day you sit around and talk about the one that got away.