If you're a subscriber I hope you've noticed that we've been making long strides in improving the user experience. I need to mention the two most recent updates here first because they will directly affect the way you use the product and over the next several posts I'll get into more of the details.
Bank Contacts
Previously when you got bank contacts from the Jigsaw plugin all the contacts went into one big 'Contacts' bucket. Now your contacts are automatically associated with and attached to the bank (see the image below).
We also haven't had a 'notes' section in BankProspector 2.1, probably should have earlier, now we do.
This means that all your research and contact activities can happen in 1 place. No more jumping around different websites and applications. Fire up BankProspector, find your target banks, find your contacts, make your calls, connect, or send your emails from right where you are with all their data right in front of you. Simple.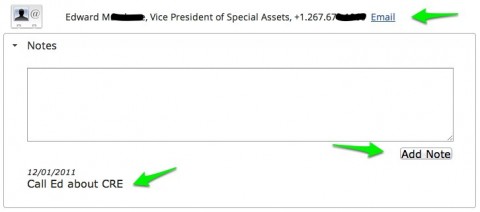 This change however leaves many of us with (sometimes large) numbers of contacts that are sitting in the aforementioned bucket not associated with any bank record. We've have created a fix for this. In your 'My Contacts' panel on the bank record you'll see a note next to each contact that says 'Link to this bank'. We're asking members that they go ahead and associate their contacts with the appropriate banks by clicking this link.
We are shooting to remove the 'My Contacts' bucket from the individual bank pages (but leaving the separate contacts page) by the end of January. This change will result in improved performance and ease of use for everyone. New members will not have to do this at all and can disregard.