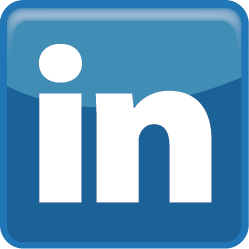 Want to get more leads and business through social media and more specifically through LinkedIn? OK here's a secret… behind each of those little avatars is an actual person.
Act like it.
I've watched in horror lately as so many people blast out what amounts to a SPAM attack. You won't win friends and influence people with that approach.
Here are some 'Do's and Don'ts for LinkedIn' that you should live by, or don't – but ignore them at your peril.
LinkedIn Dos and Don'ts
Post relevant articles and content that other professionals are interested in. It doesn't have to be your original content all the time, in fact it shouldn't be, share other people's good content.
Use a real photo of yourself. If you have no photo or worse if you're using a logo or some other icon the rest of us assume that you're not legit, you're a shill at best and at worst you're a spammer
Please don't take a picture of yourself in your pajamas or in some dark room with posters on the wall looking all creepy, for god sakes this isn't MySpace we're trying to do business here.
Complete your profile enough so that people can get a sense of what you have done. If you've got a spotty incomplete profile or you're showing one position you look like a joke. If that's all you actually have then list the skills that you have, your profile is proof that you're worth talking to it is your business resume, treat it that way.
DON'T MAKE POSTS IN ALL CAPS IT LOOKS LIKE YOU ARE EITHER YELLING AT EVERYONE OR YOU DON'T KNOW HOW TO USE A KEYBOARD, NEITHER IS GOOD. "HEY 1996 CALLED AND THEY WANT YOUR POST BACK"- Know what I'm saying?
Don't post the same damn thing over and over again in the same group day after day, gosh, we get it already, how about bi-weekly or something? Change it up a bit. This isn't a newspaper ad it's social media. The actual business people who keep up with a group are annoyed by you.
Straight up self promotion without a hint of actual content goes under 'promotions' there's nothing discussiony about, put it in 'promotions' when you're posting in 'Groups'.
Don't post affiliate links unless you disclose that's what they are (it's the law). Most of us already know when we see one and when you don't say it you look like you're trying to put one over.
Don't ask for endorsements from people you've never done business with. What can they really say about you that's honest? You wouldn't ask someone in 'real life' for a recommendation before they knew you, would you?
OK so now that I've gotten that off my chest and you're still reading and maybe you haven't deleted the bookmark you had for me and decided I'm a jerk. Let's talk about what works.
First let me disclose to you that just about 25% of this site's referral traffic comes from LinkedIn. That's more than the runner up referrer by a factor of 4. Almost 5% of the actual sales come directly from LinkedIn. This site gets thousands of visitors every month and many dozens of new leads and opt-ins and sales.
A confession, I have experimented with different things along the way… As a policy now however I do not post blatant self or product promotions on LinkedIn UNLESS (see how I yelled that) I'm posting auction listings.
Why Not Just Post Your Pitch?
Because the conversation has to be different and yes it should be a conversation. LinkedIn marketing is not about just blasting everyone in the face with your stuff and getting them to buy, buy, buy. It's about growing a base of 'fans' or supporters or even interested onlookers… like an actual network of people (whoa), and then nurturing that base. You don't nurture a base by shoving your offer down its collective throat.
You nurture a base by feeding it… by regularly providing something of value. Yes you should have some links to whatever you're doing (you are in business after all). But make your posts and offers relevant and useful it cannot read like self promotion or your typical internet marketing spam or you'll end up with very little traction and people will tire of you.
If your business is like mine then at some point you're going to talk to someone to get a deal done. Remember this and act accordingly when you're online or you could find your phone oddly quiet.
How to Promote Correctly on LinkedIn
What are you expert in?
What is that you are doing or what information do you have that other people in your space (or that your prospects) want to have? If you're not sure don't worry, that's pretty common, but you should start thinking about this. You are going to some content, something that you can offer, if you want any sort of marketing automation or lead nurturing process in your world.
After you discover what it is that you have you develop that thing that you know into some kind of digital product. Whether it's a report, or a white paper, or a video, or a course or a podcast or whatever it is. Make sure its useful and promote that. There are different ways you can do this whether it's just content on the web or a download or whatever it is, you should created this thing. If people like your stuff they will raise their hand and ask to do business with you, you don't have to grab at it.
If you're thinking about how you're going to grow your base and create more leads from LinkedIn you can feel free to contact me to talk about ideas.
Oh, and by the way if you're doing it right LinkedIn leads convert like crazy. It's like you get your own little stack of Glengarry leads…
By the way BankProspector has a LinkedIn plugin and once you've grown your network a bit it can be a very powerful tool for quickly discovering who you should be talking to at any of the different banks with distressed assets. LinkedIn no longer offers this API, but you can still use their site search tools to find employees of specific banks.  BankProspector also offers a database full of contacts and employs staff to assist in finding specific contacts.