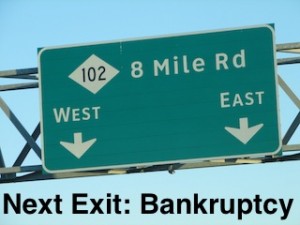 The big news of the moment is the Detroit bankruptcy. So is it the first domino in a chain of major U.S. cities going under or the first to really hit the reset button and emerge as best area for cashing in on non-performing notes and REO for sale. Or could it be both?
Even though the data clearly shows residential and commercial property values improving amidst many foreclosures, the media and many real estate and distressed debt investors have been complaining about the recent increase in competition and "decline of inventory."
Many are undaunted, especially serious players with bigger pockets, and that relish snapping up the most distressed homes for huge profit margins such as one of the nation's largest home builders Pulte and Gorilla Capital that put the brakes on back in 2008 and 2009 but who told Bloomberg this week plan to close on and flip 500 homes in 2013. However, the general consensus among all distressed property pros is that it's time to go where the inventory is.
According to RealtyTrac, last month saw around 100% increases in foreclosure auctions in a least 3 states: MD, FL and NJ.
However, Detroit certainly offers its share of non-performing notes and REO for sale too, and now it's not just the private sector but the government being forced to shed properties for pennies on the dollar too.
While for many individuals in Southeastern Michigan the bankruptcy process will bring personal pain and financial stress, it is a very positive thing in the long run.
Just as huge numbers of individuals, including investors and many businesses including Detroit's massive automakers have realized, bankruptcy is a great purging process that allows those that go through it to emerge stronger and better off.
Essentially, this news signals that this could be ground zero and the real launching pad for Detroit's economy and real estate market to move upwards sustainably in a new era of prosperity.
Many local investors and entrepreneurs have been investing heavily and working to revitalize communities, though perhaps this is the one monumental event that has really been needed to clear the way to true profits and a lasting rebound.
So which banks in Michigan have non-performing notes and REO that could potentially be for sale? Some to check out may include Oxford Bank, Independent Bank, and Chemical Bank to name a few. Check out these and more, as well as special servicers, credit unions, and asset management companies through BankProspector now.