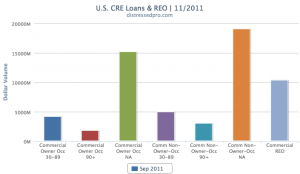 The total volume of distressed commercial real estate including late and non performing loans and REO at the nation's banks fell by 1.64%* in Q3 from Q2 of 2011.
The reduction, while maybe encouraging if you own a bank, doesn't of course tell the whole story of the commercial real estate market.
This past quarter saw a number of banks dispose of  pools of loans and 30 banks were closed. Assets sold to non-bank institutions and any assets that were not taken under loss sharing agreements simply leave the aggregate number. In other words, when assets come under FDIC receivership or are sold outside of the banking system the volume disappears. Recent Colony Financial and Sabal acquisitions are examples. In fact the transaction volume of these two investors alone explains some of the 'improvement'.
Substantial charge-offs also contributed to the overall reduction. Charge-offs in this situation are a good sign of (hopefully) healthy institutions admitting the reality of the value of their portfolios.
Banks report commercial real estate loans as either 'Owner Occupied' or 'Non Owner Occupied' and they report loans 30-89 days late, 90+ days late, non-accrual and REO. Here's the breakdown of the percent change by loan type last quarter to this:
Owner Occupied 30-89 Days Late

+3.59%

Owner Occupied 90+ Days Late

+11.43%

Owner Occupied Non Accrual

-2.24%

Non Owner Occupied 30-89 Days Late

+2.21%

Non Owner Occupied 30-89 Days Late

+6.97%

Non Owner Occupied 30-89 Days Late

-7.05%

Commercial REO

+1.88%
The overall reduction in CRE non accrual amounted to $971MM +/-
A new 
FASB rule
 which some experts say will discourage workouts and hopefully promote transactions are going (or have gone) into effect now. This rule in essence says that in Troubled Debt Restructurings if there are concessions made to the borrower which are outside of market rates and terms then the loan may not be moved out of non accrual and continues to impair the bank's balance sheet.
*BankProspector numbers represent approximately 93.7% of banks but exclude those banks formerly regulated by the OTS now regulated by the Office of the Comptroller.