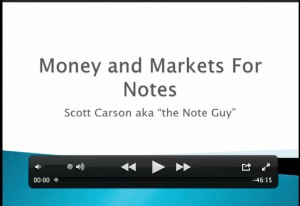 Today I caught up with Scott Carson "The Note Guy". Scott is an active note investor who's been full-time in the note business for the past 6 years.
The thing I like most about Scott is that he is somebody who is walking the walk not just talking the talk. As he says in this webinar (to other trainers):
"If you haven't done a deal in the last 12-24 months – shut up and get out of my face"
Oh man I like that.
In our call we talk about:
3 Emerging Markets where Scott is actively doing deals
The

Hardest Hit Fund

and how this government program can make your returns soar
Case study using HHF and another government program that delivered a 600% cash on cash return in 6 months
Scott has several 4-day in-person seminars coming up in San Diego, Chicago, San Francisco, and Baltimore in the coming months. Because of our long term business relationship he offers a special deal (2 for 1!) for our subscribers.
Whether or not you can make these upcoming dates go watch this webinar now.