I got a good support question from one of our subscribers today and I thought I'd answer it here rather than privately in case it helps anyone else figure out what they're trying to do. Here's the list of questions he asked:
How do I get

List of all banks who have REOs and Non-Performing Notes in California
Name, Telephone Number and E-mail address of Executive at Bank who handles REOs and Non-Performing Notes
Current list of REOs and Non-Performing Notes for Commercial properties in California
I want to address the last question first. We show you the totals for a portfolio in each stage of default (30-89 days late, 90+ days late, non accrual, and REO) we don't have information on individual loans or properties. Banks have to provide portfolio info but not property by property details. There are no systems, no databases, and no software that I'm aware of that will give you individual property and late and non performing loan details for whole loans.
CMBS is a different story and if you're playing at that level you should check out CMBS.com. For everyone else, you're not going to find whole loan or individual REO property level information across the asset classes.
There are no requirements for banks to record or post info about their REO or their late loans anywhere that I'm aware of. There are of course legal notices once a foreclosure process has started but that is a different kind of data. Our data will help you get to the right people in the right places and you'll know before notices ever even go out.
That said, your job then is to find banks with the types of distressed assets you're looking for and then to find and connect with decision makers and then they will give you a list of whatever notes or REO they're willing or trying to sell, really.
Here's a step by step on how you'll use BankProspector to accelerate this process. (If you're a member, you should go through the user guide, you'll see all this plus videos).
Here I'm going to show you one way to get these results. You can also use the advanced search
Click on any of these images for a larger view.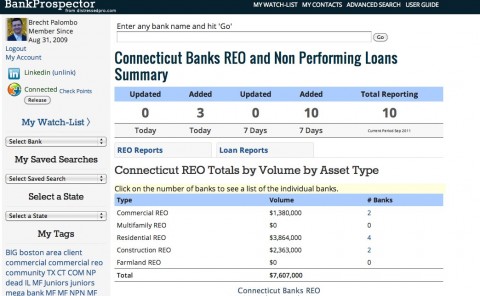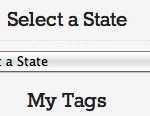 Above is what any state or the US overview looks like. If you're looking for state info and not for the whole US then you can select from the sidebar drop down (see left) menu to see data just for banks in the state you're interested in. BankProspector shows you the info for banks headquartered in a particular geography. We know from being in the business that community and regional banks tend to lend… well… in their community and the region. The Wells Fargo and BofAs etc are obviously going to have product in most every state.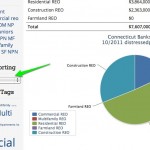 Four times per year banks are in a reporting period. BankProspector always shows you the most current reporting period. As I write this at the end of October banks are filing reports for last quarter. As of today about half the banks have filed their reports. That's why the numbers you see above for california are so low. Over the next several days this number will go up to about 250 (as I recall). If you can't wait for the most current data you can go back in time with our historical reporting feature. Simply select from the drop down (see left) and you'll go back to the last most complete data set, up to 3 quarters.
Find Distressed Assets
Now you're in a place where you have to decide what kind of distressed assets you're looking for. The front page always defaults to REO (as above). Next to the REO selections it says "Loan Reports" hover over this and you'll be able to choose from commercial, construction, multifamily, residential, farmland, credit cards, or C&I loans. If you're looking for REO just click on one of those blue numbers that represent the number of banks reporting and that will bring you to a list of banks with those assets. If you're looking for loans select from the top level loan reports (in this case I'll use commercial) and you get the following.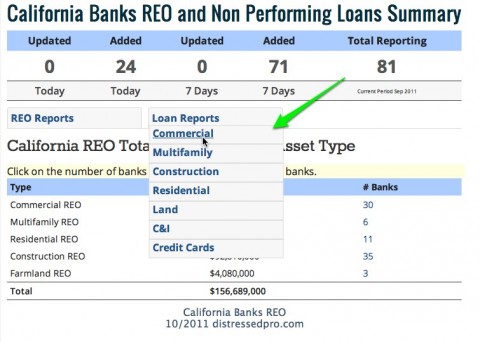 Now that you've selected commercial real estate loans you have another screen and another choice to make. Commercial real estate loans are reported as either owner occupied or non owner occupied. An owner occupied building could be a single tenant retail place, or a hotel or motel, it could be a manufacturing facility we don't know. The other option is non owner occupied commercial real estate and this should be self explanatory, this will mostly consist of loans on everything else, retail strips, office buildings, and so on.
Decide what you're looking for and then decide what you're after. The loans are grouped into 30-89 days late, 90+ days late and non accrual. The red box below shows where you see the asset types the green arrow shows where you would click if you wanted a list of the banks in California with non accrual owner occupied commercial real estate loans.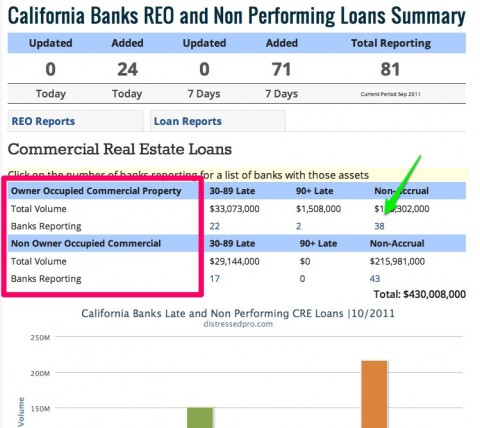 If you were looking for REO you would have already clicked on the number of banks on the start page.
Now you're looking at a list of banks with non owner occupied commercial real estate loans in non accrual (as below) they are automatically sorted alphabetically, you can resort them by clicking on any of the column headers. You can page through the results with the arrows at the bottom of the table and you can select how many banks you'll view at once.
Click on a bank to visit the bank record or click on 'watch' on the right to add it right to your watch list. In this case I'll click on the bank.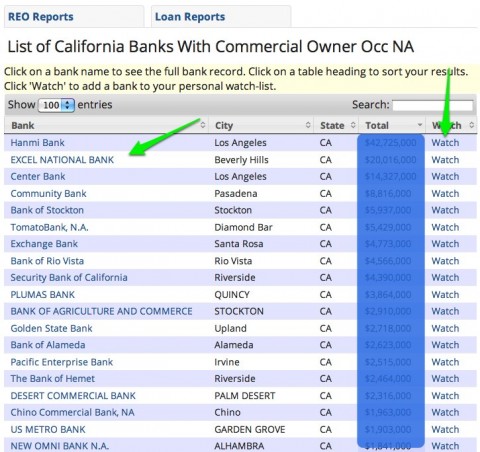 I'm going to select the top bank in the list, Hanmi Bank.
Find Special Assets and Other Bank Decision Makers
As of August 31st, 2016 data.com no longer offers integrations with 3rd party apps like ours. All contacts are now provided by our in-house research team and are included with your subscription.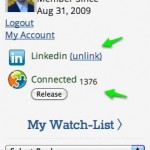 I'm not including an in depth view of the entire bank record in this post, see the user guide for that. If you haven't already now would be a good time to connect your LinkedIn and Jigsaw accounts. If you don't have a Jigsaw (soon to be data.com) account already there is a link in the app that will take you to get one. If you don't have a LinkedIn account, pop over there and sign up. The level of free data on both of these is impressive.
Once you're connected click on the LinkedIn bar and it will open a window inside the record like you see below. Click any of the radio button selectors to search by specific titles or enter your own title keywords in the custom search box and press enter. As you can se in this screenshot I was lucky enough to have a Special Assets Officer come up first. Now I can visit their profile, send them a message or ask them to connect depending on my own Linkedin settings.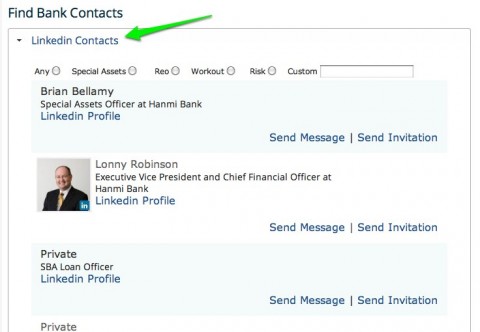 If you don't find who you're looking for next try the Jigsaw plugin. Again click on the Jigsaw header and this will launch a window inside the bank record (see below). Again you can search by title, or you can scroll through the contacts with the arrows at the bottom of the table.
Once I find a contact I want I'm going to check the box next to their name and scroll to the bottom and click "Get Checked Contacts". This will only work if you have connected your Jigsaw account and have some credits. Otherwise the data you see below is what you get.Now you've picked one or more contacts you're ready to get the details, check the boxes for the contacts you want and click "Get Checked Contacts".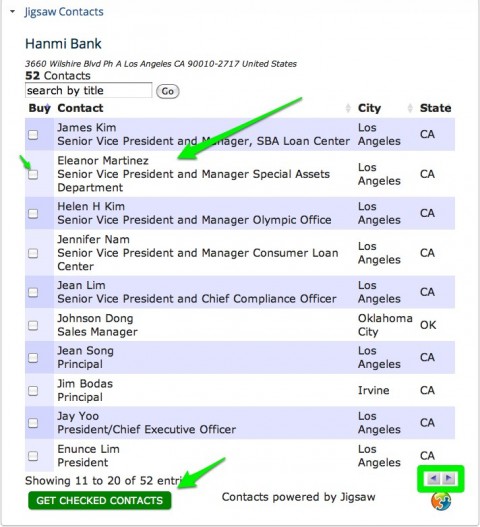 You'll be prompted for confirmation. Confirm it. Next click on the 'My Contacts' tab right below the Jigsaw Contacts tab, scroll to your contact or find them with the search box as I have below.
Now you can email your contact right from the application by clicking 'email' or you can download the full contact information to your computer or add it to your favorite CRM.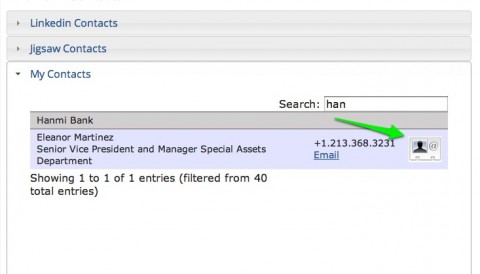 Your download should look something like what you see below.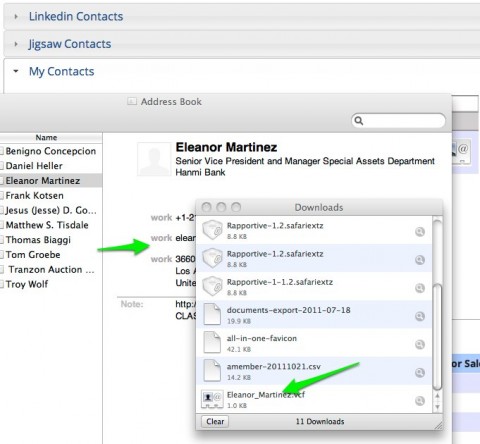 I guarantee it took a lot longer to read this than it does to use the actual software. If you're ready to start finding community and regional banks and bank contacts with non performing loans and REO in your area then you can sign up right here.