The Most Comprehensive Guide on the Web to
Understanding Bank Foreclosures,
Finding Bank Foreclosures,
and Negotiating Deals
on Bank Foreclosures
Thanks for stopping by! This page is a work in progress, a living document, so if you have questions that aren't answered here just scroll to the bottom and ask – we'll answer!
SPECIAL HIGHLIGHTS:
How to find bank foreclosures
How to buy bank foreclosures
How to finance bank foreclosures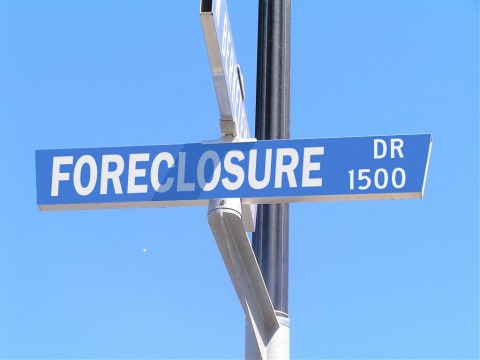 How Does Real Estate Become Bank Foreclosures?
Bank foreclosures can stem from a number of causes. It is most commonly associated with borrowers missing monthly mortgage payments. This can also be a side effect or result of paperwork and accounting mistakes, forced placed insurance fraud, and other issues.
Bank foreclosures can also begin if property taxes are delinquent, other superior liens have not been satisfied, balloon mortgage loans have matured, or there is a government seizure.
If not reinstated in time; the lender will force the property to be offered at public auction. At this time the property may be redeemed by the borrower, purchased by a third party, or returned to the lender.
During the process a property is technically in different phases of 'foreclosure':
Non-performing loans
Pre-foreclosures
Foreclosure auction properties
Bank owned REO
What is the bank foreclosure process that
results in bank owned property?
Residential Home Foreclosures
The residential home loan foreclosure process differs depending on the state of the property, and the type of loan agreement in place. It can either be a judicial, or non-judicial process.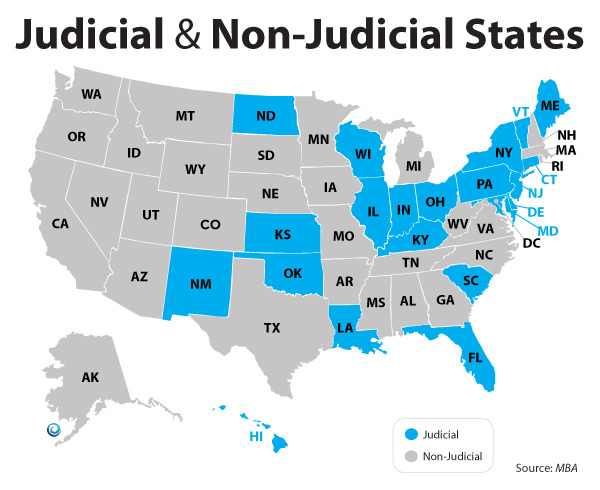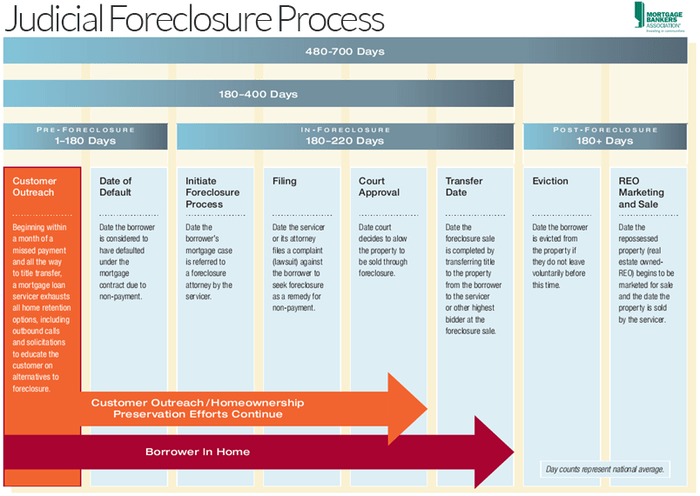 Non-Judicial Foreclosure Process

Commercial Real Estate Bank Foreclosures
Commercial real estate bank foreclosures and bank owned properties can fall into several categories:
'Commercial REOs'
Multifamily property foreclosures
Construction REOs
Land
In virtually all of these categories the foreclosure process can be very swift. As the loans made on these properties are generally not subject to the same regulations as owner occupied residences, the timeline from default to seizure can be very short.
This is hard for borrowers. It can be great for savvy investors that have the tools to identify these properties and make offers on them. Many banks have millions more in commercial bank foreclosures than residential homes.
Getting Help When Facing Foreclosure
If you are in foreclosure, or even anticipating that there is a chance you may fall into foreclosure on your home or investment property – get help. Get help now! There is legitimate help available.
5 resources for finding out about stopping bank foreclosures:
How to Find Bank Foreclosures for Sale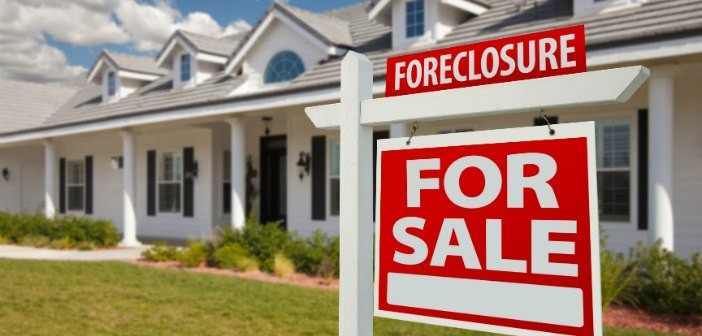 Finding bank foreclosures for sale can be both incredibly easy, and very challenging. You may drive past a home for sale with a foreclosure sign in your neighborhood tomorrow. Or you may need to go out and attend a foreclosure auction, or invest in a software service that will deliver off market bank foreclosures right to your laptop or smartphone.
It's all about how much time and money you want to save in the process. How much of a deal you want. And how many bank foreclosures you want to buy, and how often…
Free Foreclosure Listings
Bank foreclosures became very popular after the market melted in 2005. Foreclosure searches became so popular, and bank foreclosures so in demand that many properties that weren't even foreclosures were listed with the label in order to get more attention, and give the impression of being a deal.
Legitimate foreclosure listings can offer great value.
Unfortunately the pitfall of many free foreclosure lists and search tools is that you often get what you pay for. The information is often out of date, properties are no longer available, incorrect data, and data which is hard to take action on.
Bank foreclosures can be found from a variety of public resources, at auctions, and off market via banks and lenders that haven't publicly listed them yet.
9 Free Foreclosure Search Tools
Google, Yahoo, and Bing internet search engines
Craigslist
Your local public records office
Local newspapers
HUD Homestore
The Multiple Listing Service (MLS) and local real estate agents
How to Find Foreclosure Auctions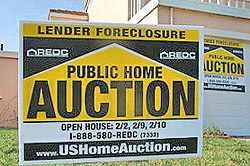 Even though foreclosure auctions have become notorious for being overpriced and rife with real estate and mortgage fraud, they can offer convenience. That is if you find the right auctions, with little competition, no rigging, and you have the cash to act on properties you know well, at the right price.
There are public foreclosure auctions when courts and banks execute the foreclosure process. These can be found in public notices in the local newspaper and at the courthouse.
There are also third party intermediaries which provide auctioneering services for those with properties. And some real estate agents, sellers, and investors host their own auctions to grab attention and sell properties fast.
How to Find Bank Foreclosures
Bank foreclosures
can be found free in four main ways:
Directly via bank websites
Posted on bulletin boards in bank branches
At local foreclosure auctions
Through real estate agents and the MLS
How to Know Which Banks Have Foreclosures
There are thousands of US banks with foreclosures. That's in addition to credit unions, hedge funds, and other investment firms, lenders, and financial institutions.
Chances are every bank you contact will have at least one foreclosure on their books. Some have tens of thousands, and tens of billions of dollars in foreclosures and non-performing loans.
Some publicly advertise them or have third parties advertise and market them. Others haven't developed a good system for this, or are keeping their delinquencies and distressed assets more private.
These off market bank foreclosures (where the best deals are normally found) can be uncovered by using online software which compiles raw bank and FDIC data like BankProspector.
How Banks Decide to Sell Foreclosures
Getting from the point where a borrower stops paying their mortgage, or defaults on their loan agreement in another way, to actually foreclosing, and selling a property can be a lengthy and challenging process.
In most cases banks are eager to liquidate non-performing assets, recoup capital, and to replace them with performing and profitable loans. At least in theory.
That doesn't mean that there aren't technicalities.
Beyond the legal processes and court backlogs, and even shady attempts by some borrowers and third party vultures to stall the foreclosure process, there are other legal, financial, and technical challenges as well.
This can include the institution's financial health, making the numbers, the cost of selling properties, and having a clear title. Some will be proactive about listing foreclosures and selling them. Most drag their feet at best.
Many sit on them for years until they get offers from savvy investors and buyers that know how to find them, or real estate agents approach them with good listing presentations.
Fortunately; there is at least one online tool for not only seeing what banks have in off market foreclosures, but for identifying 'sell indicators' as well.
How to Get Bank Foreclosures
(for Real Estate Professionals)
Obtaining the listing rights to sizable single commercial properties, or significant flows of bank foreclosures can be incredibly profitable for real estate professionals.
Buyers have to go through the listing agent. If you've got the listing you are virtually guaranteed a payday, unless you are doing a horrific job of utilizing the MLS and other real estate marketing mediums.
They key is landing and selling those first listings of bank foreclosures for lenders.
Start by:
1. Finding out which banks will list foreclosure properties for sale with agents
2. Getting to know how banks choose agents and brokers to handle their listings
3. Get in touch and make your presentations to those financial institutions
4. Successfully close deals and show your value, and repeat
Click to Learn More about Becoming a Certified Distressed Property Expert
Which banks will list foreclosure
real estate with brokers and agents?
Some US banks and credit unions will list foreclosures with real estate brokers and agents. Some have developed their own channels and departments for handling loss mitigation and fielding and processing offers.
This is common amongst the nation's largest banking institutions such as Wells Fargo and Bank of America. Others frequently outsource this expensive and time consuming process to local real estate brokerages and agents.
Some have had existing relationships for liquidating their bank foreclosures for decades. Others are still open to being solicited for their business.
Many smaller regional and local banks and credit unions still desperately need help with listing and selling their residential bank foreclosures and commercial real estate. It never hurts to ask.
You never know when you are going to open up the flood gates to a career long stream of easy listings and commissions.
Using software search tools can help identify banks with properties in your area and for obtaining their contact information to streamline the process.
How do banks choose Realtors
for listing foreclosure properties?
Banks choose real estate agents and brokers to list their bank foreclosures on a number of factors. Most of the weight of this is on the individual real estate agent to present a good listing presentation and resume which highlights their capabilities, experience, and understanding of what the bank is looking for in a representative.
There are various credentials Realtors can obtain to enhance their image in this respect. But there is little substitute for demonstrating understanding and competency, and relaying the advantages of hiring them.
Build the right connections and relationships, and show them why they should be giving all of their listings of bank foreclosures to you.
Discover the Distressed Pro Academy – The #1 Resource on the Web for REO Professionals
Buying Bank Foreclosures
Buying bank foreclosures can be a little bit of a daunting experience. Especially for those just starting out, and who have been looking in the wrong places, and talking to the wrong people.
On the bright side purchasing bank properties can be very easy, and highly profitable once you know where to look, how the process works, and build up a little experience.
The more you learn about the process, the better information and data you have access to. And the more offers you make; the easier and more profitable it gets.
The bottom line is that banks need to sell these assets, and bank foreclosures still offer the greatest value properties for buyers.
7 Steps to Purchasing a Bank Foreclosures
1. Identify banks and credit unions with distressed property and bank foreclosures
2. Look for the sell signals that indicate they can and are interested in selling
3. Connect with a top level decision maker that can be negotiated with (or use an agent)
4. Make a strong purchase offer
5. Perform your due diligence and secure final funding approval
6. Sign the closing documents
7. Secure your new property purchase
Negotiating Bank Foreclosures
The media has done a great job at scaring many buyers into making over the top offers. They report that banks are asking for all types of wild terms, and are receiving many multiple bids on properties.
This may be true in many cases. But it is also true that there are tens of thousands of bank owned foreclosure homes on their books.
Remember; the whole draw to bank foreclosures properties is to find great deals, and to get ahead of the competition. Otherwise no one would be interested in buying them. We know that is not the case.
Bank foreclosures have sold for pennies on the dollar. Even though the market is getting better, many foreclosures are just beginning to get processed now.
This is in addition to many re-defaults on loan modifications, and properties purchased in the last seven years which are just no falling into foreclosure.
Are you likely to find a glut of homes that banks are giving away for 25 cents on the dollar? Maybe not. But there are significant discounts to be had, and plenty of them for those that negotiate.
Remember that some auction houses blatantly promote that some properties can be sold to select buyers for 30% to 50% off, and even a low as for $1.
If you are a core public worker in your area, a nonprofit, or represent a local government agency, or can bring jobs to an area as a business there may be additional discounts to be negotiated. This may even extend to closing costs and property taxes.
Don't make an offer too far below what you will pay if there is competition and you really don't want to miss the property. But, don't be scared and bullied into overpaying either. Leave a little negotiating room.
You can be sure the other side is always likely to ask for some concessions, no matter how great your offer is. If you don't feel you are a strong negotiator, an approved real estate broker or attorney can help you draft your contract.
How Much to Offer on Foreclosure Properties
This is a very broad question with many variables. The best answer may be somewhere between the top amount you are really willing and able to pay, and a number that will simply offend the seller and get you cut off, with no hopes of negotiating.
Nail your offer in this margin and you should be happy about scoring a great deal.
Factors that may play into your offering price include:
• How motivated the owner is to sell
• What the property is really worth
• How much it will take to fix up the property
• If there are any occupants in the property
• Your strength as a buyer (or lack of it)
• Ability to finance the transaction, and the terms of the loan
• Competition and demand
• Future forecasts for property performance
Financing Foreclosure Real Estate
Financing bank foreclosures can be easy, and tricky.
Chain of title issues, property condition, the presence of distress, liens, and a tight credit market can all present challenges to financing foreclosure property purchases.
Some lenders don't like loaning on them. Some don't like loaning where bank foreclosures are dense. Other mortgage lenders love financing bank foreclosures.
In fact, many new lenders, conduits, and brokers have emerged specifically to finance the purchase, renovation, and long term hold of distressed real estate for home buyers and real estate investment firms. Some even thrive on providing loans on the most distressed properties.
The key to successfully financing the purchase of bank foreclosures is finding a good match in a lender.
Ask plenty of questions upfront. Do they like this type of scenario, property, area, and your credit profile? How many similar transactions have they funded in the last 3 months? What potential discoveries in the due diligence process could derail your loan approval and ability to close on time?
5 mortgage lenders for financing foreclosure real estate:
1. B2RFinance
2. Direct Apartment Lenders
3. Prospect Mortgage
4. Pacific Private Money
5. FirstKey Lending
Types of loans for financing foreclosure properties:
• Blanket mortgage loans
• Hard money loans
• Commercial real estate loans
• Home equity lines of credit
• FHA & VA Loans
• Rehab loans
• Fixed and adjustable rate mortgages
Renting Foreclosure Real Estate
Renting and bank foreclosures have become deeply intertwined in the wake of the foreclosure crisis of the early 2000s.
Many ex-homeowners are now renting their properties, after handing over the deeds to the bank, or to 'foreclosure rescue' firms.
Investors have also stepped into the middle with creative structuring such as leasebacks, subject-to, wrap around mortgages, and lease options.
These distressed properties are then often in turn offered to renters on similar terms or traditional leases. Sometimes this is completely legitimate. But there are many real estate and mortgage scams that have similar traits.
Rent-to-own deals and renting properties in foreclosure can have advantages for all parties. They can also be very risky for both sides.
Renters can have deposits and the roofs over their head at risk. Owners that are in foreclosure and who are skimming rents without paying mortgage debt obligations can find they are in legal hot water.
Be alert to rental fraud scams, and structure clean, sustainable, deals that ensure solvency.
Closing Costs for Purchasing
Distressed Bank Owned Property
How much are the closing costs on bank foreclosures?
Both real estate sellers and buyers have closing costs. One of the roadblocks to struggling homeowners selling their properties to avoid foreclosure is closing costs.
Hiring a Realtor costs money. Even running classified ads and yard signs costs money. Then at closing there are taxes, past due interest, attorney fees, and potentially other liens to be paid.
Who typically pays which closing costs at settlement depends on what is traditional for the state and county you are in. But everything is negotiable.
Those buying foreclosures can have costs associated with due diligence. Some are paid in advance. Others like appraisal fees, title search costs and insurance can be paid at the closing.
Banks typically like to defer as much of the closing costs to buyers of foreclosures as possible. When it comes to pre-foreclosures, short sales, and probate properties; buyers will often pick up distressed property seller closing costs in order to facilitate the deal. These costs need to be factored in when making the offer upfront.
To obtain an accurate estimate of closing costs for your purchase or sale ask your lender for a Good Faith Estimate, and the title company or closing attorney for an estimated closing statement.
Foreclosure Property Maintenance
Bank foreclosures typically need property maintenance, and it is a very important issue. It cannot be overlooked.
There are two parts to this.
The first is evaluating the maintenance and property condition of bank foreclosures for sale. At one point analysts estimated that 90% of these properties required repairs to make them livable.
Banks and other lenders generally haven't been keeping up property maintenance. Abandoned 'zombie foreclosures' are a blight on neighborhoods, drain city services, and are a drag on values.
Many US cities are bulldozing them by the thousands. This is being seen from Long Island to Detroit to Nevada.
Some of these commercial and residential foreclosure properties offer great deals, with high profit potential. Others may be better off torn down and rebuilt or repurposed.
The key to success is knowing what you are getting when you are going in.
Even in 2015 'Zombie Foreclosures' remain in the news headlines:
• CNN Money reports they are resurging in 19 states including; NJ, CA, NY, NC, TN, VA
• RealtyTrac reports a 109% year over year increase in these foreclosures in 2015
• Zombie foreclosure properties are up 50% in some part of New York
• 8,400 of Chicago's 39,000 plus foreclosures are considered zombies
• Pulitzer Prize Winner, The Center for Public Integrity reports that thousands of FL foreclosure properties remain on bank books
• Even in Orlando which is considered one of the USA's best property markets OS reports thousands of zombie foreclosures still on the streets
The other side of the coin is that real estate investors buying foreclosures need to be sure that they adequately secure and maintain new acquisitions. At least if they want to add value to the community, economy, and want to avoid code enforcement violations, and hope to maximize their real property assets.
The Largest US Bank
Foreclosure Property Database
DistressedPro's BankProspector online software service offers access to see what any US bank or credit union is holding in REOs. Comprehensive training and connection tools make it fast and efficient to hone in on the institutions with off-market foreclosure listings and contact the right deal makers.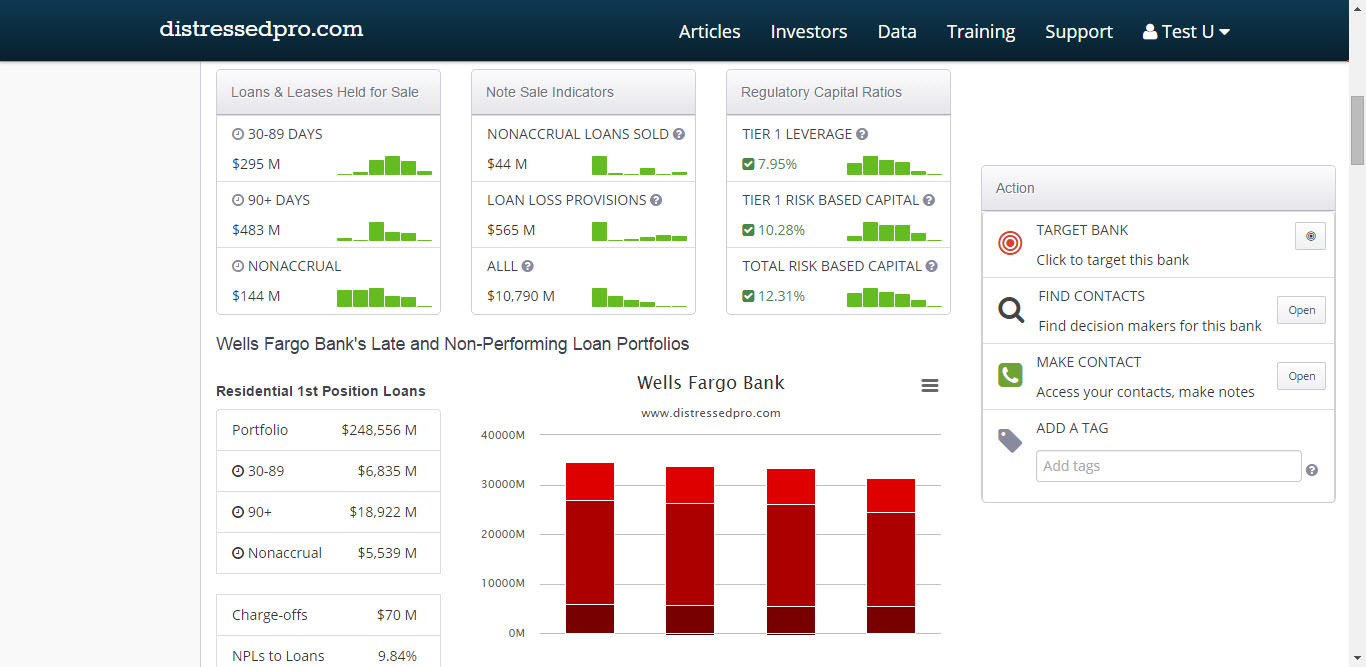 10 Websites for Information
on Real Estate Foreclosures
1. Arizona State University, College of Law
2. USDA Farms and Ranch Foreclosure Auctions
3. Realtor.com Foreclosure Listings by State
4. Home Foreclosures for Sale by the FDIC, IRS, and US Marshals Service
5. Wikipedia
6. City of Las Vegas
7. Attorney General of Georgia
8. Making Home Affordable from the Department of the Treasury
9. Cornell University Law School
10. DistressedPro.com
Bank Owned Home Foreclosure Search
Check out this video on how to get a list of banks with REO and late loans…
Pre-Foreclosures
vs.
Bank Owned Property
When a property is in the early stages of default as a non-performing mortgage loan or 'pre-foreclosure' there can be more options.
Property owners have more options in resolving and curing the issue, and buyers can be creative in deal structuring and financing. There can be risks to both sides in this too.
The downside to pre-foreclosures versus bank foreclosures is that both the owner-borrower and lender can be less motivated to act and negotiate.
Pre-foreclosures can often be overpriced and lengthy to close. With the exception of loan notes, they are rarely available in consistent bulk quantities. This drives many serious real estate investors to obtain foreclosure properties direct from banks as REOs after they have been repossessed.
Short Sales
vs.
Bank Owned Property
Most bank owned foreclosure homes are ultimately sold as some form of 'short sale'. This is not always the case.
As home prices rise in the future, and the US housing market improves banks may not need to short sell real estate owned (REO) at discounts.
Currently both properties pledged as collateral for non-performing loans, and bank owned repossessed property is typical sold as a short sale. That is for a lessor amount than the borrower owed on the mortgage loan.
Purchasing properties as short sales before they go to foreclosure auction gives some buyers the perception that they have not accumulated as many fees, back interest, attorney's costs, and more.
Some hoped to be acquired in better condition from borrowers that will exit more gracefully, if provided the means to do so.
In contrast; purchasing a property once a bank has taken over control can eliminate the often extremely lengthy short sale negotiation period.
During this process there is no guarantee a deal will be accepted. And homeowners need to be helped out. Buying foreclosure homes direct from the bank can help to streamline the process.
Foreclosure Properties
vs.
Distressed Debt Investing
An increasingly popular alternative to direct investment in foreclosure homes and commercial real estate is distressed debt investing.
A reported $60 billion of distressed debt changed hands in 2014.
Acquiring distressed debt via non-performing mortgage loans can be a path to acquiring the underlying bricks and mortar, and land at a substantial discount. Or loan notes can become high yield, income producing assets themselves.
Non-performing notes (NPNs) can help investors get ahead of the competition at foreclosure auctions and over MLS properties.
Others prefer the comfort of directly investing in the properties themselves, because it is what they understand best.
It's really about finding the right match for your investment goals and strategy.

Top 10 Banks With Foreclosure Real Estate
Top 10 US Banks with
Residential Foreclosure Real Estate
| Bank | City | State | Total |
| --- | --- | --- | --- |
| JPMorgan Chase Bank, National Association | Columbus | OH | $7,800,000,000 |
| Bank of America, NA | Charlotte | NC | $5,596,000,000 |
| Wells Fargo Bank, National Association | Sioux Falls | SD | $5,539,000,000 |
| Citibank, N.A. | Sioux Falls | SD | $2,255,000,000 |
| PNC Bank, National Association . | Wilmington | DE | $1,135,101,000 |
| U.S. Bank National Association | Cincinnati | OH | $835,980,000 |
| HSBC Bank USA, National Association | McLean | VA | $827,152,000 |
| Hudson City Savings Bank | Paramus | NJ | $797,200,000 |
| Flagstar Bank, FSB | Troy | MI | $628,271,000 |
| Bank of America California, National Association | San Francisco | CA | $444,000,000 |
Top 10 US Banks with
Multifamily Foreclosure Real Estate
Bank
City
State
Total
Bank
City
State
Total
JPMorgan Chase Bank, National Association
Columbus
OH
$130,000,000
PNC Bank, National Association .
Wilmington
DE
$87,276,000
Wells Fargo Bank, National Association
Sioux Falls
SD
$41,000,000
TD Bank, N.A.
Wilmington
DE
$26,574,000
East West Bank
Pasadena
CA
$20,258,000
FIRST BANK
CREVE COEUR
MO
$18,994,000
NEW YORK COMMUNITY BANK
WESTBURY
NY
$18,482,000
IBERIABANK
LAFAYETTE
LA
$17,592,000
Citibank, N.A.
Sioux Falls
SD
$17,000,000
Citizens Bank, National Association
Providence
RI
$16,233,000
Top 10 US Banks with
Commercial Foreclosure Real Estate
| Bank | City | State | Total |
| --- | --- | --- | --- |
| Wells Fargo Bank, National Association | Sioux Falls | SD | $583,000,000 |
| Beal Bank USA | Las Vegas | NV | $332,546,000 |
| PNC Bank, National Association . | Wilmington | DE | $236,072,000 |
| TD Bank, N.A. | Wilmington | DE | $186,882,000 |
| FirstBank of Puerto Rico | San Juan | PR | $128,405,000 |
| Bank of America, NA | Charlotte | NC | $116,000,000 |
| Santander Bank, N.A. | Wilmington | DE | $96,008,000 |
| JPMorgan Chase Bank, National Association | Columbus | OH | $90,000,000 |
| U.S. Bank National Association | Cincinnati | OH | $65,835,000 |
| East West Bank | Pasadena | CA | $60,216,000 |