The
toughest problem
you're going to face in your business over the next 12 months is sourcing enough of the right deals.  This is the 1st of a series of posts where I'll lay out a plan for building a system for conquering
this problem
and changing the way you prospect.
Step 1: Target the Right Institutional Seller Prospects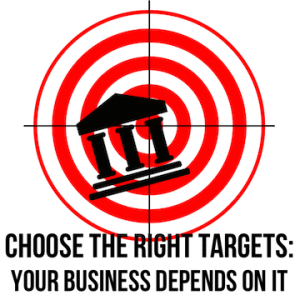 You learned in the first post in this series about why you'd pursue institutional sellers instead of just private sellers.
Here's the fact about any prospecting or marketing.
You're only as good as your list
Even if you're a silver-tongued sales dynamo who can sell you-know-what to a dog your skills are worthless if you're using them on the wrong prospects.
Targeting the right prospects is the first critical step in succeeding with your prospecting.
The fact is that we all have limited resources. We only have so much time in a day, attention span, and marketing budget. You must be vigilant in making sure that you're using your resources wisely.
Picking up a directory and dialing for dollars is over. Brute force blind cold-calling is an insult to your prospect and a waste of your time.  Please don't do this.
If you're calling on hundreds of private property owners you have the luxury of messing up a few along the way … "NEXT!".
If you're targeting 50 or 100 big repeat sellers like banks or credit unions, relationships that could make your year or even your decade, how many of those do you want to blow out of the water by dialing in completely ignorant of their problems and opportunities?
Here's what I propose.
Do your homework BEFORE you start prospecting and then do half as much.
Lenders like banks and credit unions are regulated and insured. Because of this they report quarterly (2) on their financial condition and balance sheet. They report things like…
How much of each type of REO they have on their books
The volume of late and non-performing loans for each loan type
Whether or not they've sold any non-performing loans
The current level of reserves that would allow them to sell loans at a discount
And a whole bunch more.
Know what you're walking into before you call. Your preparation will be met with respect. You'll be perceived as more professional. You will do more deals.
I'd rather call 10 targeted prospects 10 times each than call 100 lenders I'm clueless about once.
I'm talking an awful lot about "calling" but understand that this is just a substitute for "contacting". You can (and should) be emailing, sending letters and connecting on LinkedIn. BUT before you do that you should assemble a list of your best prospects.
We'll teach you all about how to do that in the Academy or we'll practically do it for you with BankProspector.
So here's the first thing you need to do after you decide you're ready for the next level and working with institutional sellers.
Step 1: Put together a list of your BEST 100 or 200 prospects.
Once you have this list together things will start to seem real and you'll have a tangible conquerable workload that you can put into a prospecting system and this will be the beginning of your path to success.
Here's One Way We Automate Your Bank and Credit Union Prospect List Building
Click Here to See How BankProspector is Going to Get You More Deals →