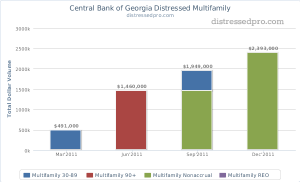 If you're working with banks to acquire or represent them in the sale of their notes or REO, then you know that it can take some time to find the right contacts and get access to product. With this in mind, I advocate that you be careful about where you're investing your time so that you're not chasing dead-ends with the time you've allotted for prospecting.
In this post I'll identify the eight bank failures since my last post about the topic, and we'll see how you could have known each was going down. We'll look at where the assets have ended up and we'll have a refresher course on a few of the indicators.
SCB Bank acquired by First Merchants Bank
Central Bank of Georgia acquired by Ameris Bank
Home Savings of America, no acquirer
Global Commerce Bank acquired by Metro City Bank
New City Bank, no acquirer
Covenant Bank & Trust acquired by Stearn's Bank N.A.
Premier Bank acquired by  International Bank of Chicago
If you've been paying attention, then you know that low capital adequacy ratios are the most obvious indication that a bank is on it's way out. Capital adequacy ratios, put in the simplest way possible, is the ratio of cash a bank has over what the bank has 'on the street', or to clean it up a bit, "Capital divided by Risk Weighted Assets".
When a bank's ratios are below a certain threshold you can make a safe bet on a few things:
The bank is being closely monitored, maybe even with a regulator in the next cube.
They are going to try to look like they're making an earnest effort to dispose of and write down their worst assets.
Self (job) preservation is the top priority.
What this means to you in practice is that they'll have plenty of stuff for you to look at but you won't be doing much (any?) business because their balance sheet can't take the pain. As a general guideline, banks need a minimum Tier 1 CAR (Capital adequacy ratio) or 4% and Tier 1 + Tier 2 CAR of 8%. Less than this indicates potential trouble, a lot less than this indicates almost certain death.
When banks are shuttered most of the assets are transferred to an acquiring institution under a
loss sharing
agreement.  Loss sharing agreements help protect the bank that has agreed to liquidate the assets against the losses that are inevitably embedded in the portfolios. Sometimes (as with Home Savings America and New City Bank above) there is no acquirer, in which case, typically, the FDIC will be responsible for liquidating assets through one of their approved service providers.
Charter National had a rising tide of mostly commercial REO bank which it bequeathed to Barrington Bank & Trust. The tiny $93MM~ dollar bank closed its doors with $10MM in REO 80% of which was commercial. To put that in perspective, their entire CRE portfolio was only $24MM. Tier 1 CAR: .13% Total CAR: .25%. All told, Charter National left less than $20MM in troubled mortgages and REO.
Central Bank of Georgia was also a fairly small bank with $278MM~ in assets. They had a mix of construction, commercial, and residential REO that all together came to $12.75MM~ and $35.76MM~ in late and non-performing loans across all 5 loan types. Tier 1 CAR .66% Total CAR: 1.32%
Global Commerce Bank closed with about $143MM~ in total assets. All of their REO was commercial and they had $19.47MM. They were carrying an additional $19MM in late and non-performing CRE loans with an even split between owner-occupied and non-owner-occupied commercial properties. Their problems in the other asset categories were nominal. Global Commerce Bank closed with a 1.08% Tier 1 CAR and a 2.15% Total CAR.
New City Bank was a tiny $71.2MM~ bank that had no acquirer. The FDIC then inherits a small amount of Chicago-area REO: just $4MM~, $5MM in commercial NPNs, $3.8MM in Multifamily NPNs, $5.26MM in troubled residential loans and a bit of C&I debt. Tier 1 CAR: -3.51%, Total CAR -3.51%.
Covenant Bank & Trust was also a sub $100MM bank with $95.7MM in assets. They left Stearn's Bank $6.5MM in Rock Spring and Dalton-area REO and about $11MM in late and non-performing mortgages of various types, mostly commercial and residential. Final CARs were Tier 1: 1.91%, Total 3.01%.
Premier Bank of Wilmette, IL held $268MM in total assets with $4MM in mostly commercial REO $22MM in late and non-performing commercial real estate loans, $11MM in multifamily NPN, $6.5MM in bad construction loans, $5MM in troubled SFR loans and $16.3MM in non-accrual C&I loans. Premier Bank rolled over with 2.3% and 3.62% Tier 1 and TOtal CAR ratios, respectively.
As you look across these banks you'll see that most of them had only a couple of locations. This is great for local investors, because if you're working your way in there you can make a safe bet as to where the assets are.  It is, however, plain to see that from the numbers that each was on its way out. Take Premier Bank for example, who showed their first signs of trouble on BankProspector as far back as March 2011. They are now closed a year later. That's a long time to be pushing a rope if you're someone looking to do NPN or REO deals on a regular basis.
The moral to this story is that you should continue to look for deals locally, but get familiar with what the indicators are that you are wasting your time on. Look to the acquiring banks who will be liquidating the assets they've acquired.
Best of luck out there and, as always, ask any questions in the comments.