550 banks together sold nearly $3 Billion in nonaccrual loans (late stage non-performing loans) in the first quarter of 2013.
Lately the most frequent question that I get, and it's usually positioned as a comment, is "banks aren't selling… are they?".
The data shows that, despite all the positive news that we're hearing in the market, banks are in fact still selling their non-performing assets. The only explanation or response really that I have to this comment, and usually I'm much more tactful about it, is "maybe banks aren't selling to (or with) you".
Here are the facts on the ground.
Let's put this in perspective.
Look at this chart of residential non-performing loans and REO at US banks for Q1 2013.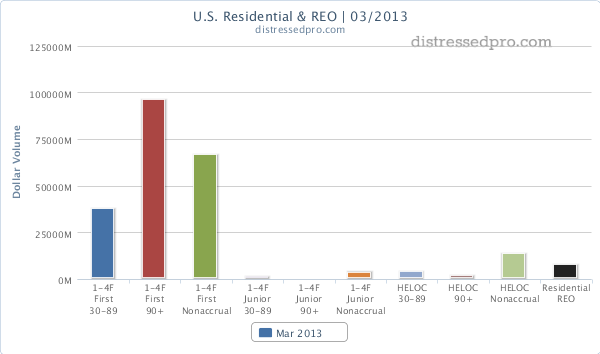 See that little bitty black smudge on the far right?
That's the residential REO that banks are holding. How much of that do you think is actually actively being marketed today?
See the red, green and blue towers to the left? That's the late 1st position residential nonaccrual loan pipeline.
These loans will either be sold or become REO. Most of them will not get worked out and start performing, in fact when loans are classified as nonaccrual by definition it means that there's no longer any hope of the loan being repaid according to terms.
In the 4th quarter of 2012 635 banks sold nonaccrual loans.
If this is your business and you're not finding any inventory then what you need to do today is look at how you're going about it.
Are you calling on banks that you know for certain have a history of selling their non-performing loans?
How many times are you calling?
Who are you talking to?
What are you saying?
My friend, if it's not happening for you in this environment then its time to look at how you're operating. You need to be looking at the volume and quality of your prospecting efforts.
Its easy to point outside of oneself and look for reasons something isn't happening and we might feel better about it after that but that approach does not improve your situation and neither does chasing the next shiny object.
Banks have seasons or cycles. If you're always counting on your one connection to make it rain it's time to diversify. Some banks push for 2nd quarter others for the end of the year, some wait until they have critical mass before they move. One thing is for sure. There's plenty of stuff trading if you're not in the mix then have a look at what you're doing (or not doing) and make a plan to fix it.
We had previously scheduled a call for this week which unfortunately we have to push. If you're getting stuck at the gate then I suggest you listen in, we're going to have an expert on the line (again) who's been in more than 2,000 banks over the years. He's going to talk to us about "How to talk so bankers will listen and how to listen so bankers will talk".
You ought not miss it…
You can »» Register Here «« and we'll let you know as soon as we're scheduled.