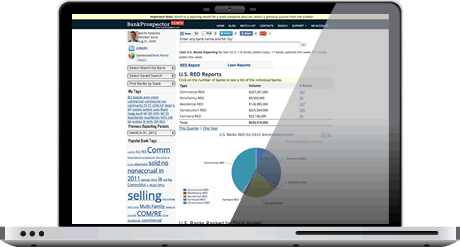 Here's What You Get Point By Point
Software
LinkedIn and Jigsaw Contact PluginsProviding Instant Updated Contact Info for Every Bank and Credit Union
Nightly Updates to Quarterly Filings for Every US Bank

3 Ways to Search Sort and Build Your Own Custom Bank Prospects List
Downloadable Bank Charts by Asset Type State-Wide or Individual
5 Types of REO: Commercial, Multifamily, Residential, Construction, Agricultural
11 Types of Late and Non-Performing Loans: Owner Occupied Commercial, Non-Owner Occupied Commercial, Multifamily, 1-4 Family Construction, Commercial Development and Construction, Residential 1st position, Residential 2nd Position, HELOCs, Farm Loans, Commercial & Industrial, Consumer Credit Cards
Key Performance Indicators: Capital Adequacy Ratios, Non-Performing Loans Sold in the prior quarter (nonaccrual sold), Loan Loss Provision, Allowance for Loan and Lease Losses, Loans Held For Sale 30-89, 90+, and nonaccrual

Quarterly Updates for Every Credit Union in the US

Foreclosed and repossessed real estate
Real Estate Loans Foreclosed YTD
Foreclosed Repossessed Automobiles
Key Indicators: Capital Requirements, Loans Held for Sale, Troubled Debt Restructured Loans, Fixed Rate First Mortgages, Business Loans, Interest Only and Payment Option Firsts, Interest Only LOCs, Resi Construction, and more

Growing Database of Hundreds of Servicers, BPO Companies, Property Preservation Companies, REO Asset Management Companies
Training
The Bank Direct Success Manual ($97 Value)

How Banks Make Decisions
How to Find the Bank Data
How to Read a Bank's Non-Performing Loan & REO Pipeline
How to Know If a Bank Can Sell
How to Know Which Assets a Bank Will Sell
How to Size Up NPN deal potential
How to Know If a Bank is Selling Nonaccrual
How to Find Distressed Assets From Failed Banks
How to Find and Contact Decision-Makers at Banks

8 Video Training Modules Including

How to Know if a Bank is Healthy Enough to Sell
How to Know if a Bank is Selling Non-Performing Loans for Sure
How to Know Which Assets a Bank is Preparing to Sell
How to Size Up NPL Deal Potential Like a Wall St Banker
($397 Value)

Plus All The Video, Audio, and Transcribed Training and Everything We Add As Long As You're a Member
Support
24/7 Access to all the data and training
NO software to download or install
Login anywhere from any browser
Searchable support forum and knowledge base
Complete Video Enabled User Guide
Email Support
Coming Soon: Member's Forum
Preferred Browsers


Here's What Our Customers Said, In Their Own Words, When We Asked What They Liked Best
Simplicity in use is the outstanding feature of the software. Also that the data is constantly updated as reported into the Feds. It is up to date.
the ability to research which banks have actually sold npn in the current or prior quarter and based on the data BankProspector supplies, you can identify ones that could potentially sell in the future.
I LOVE the advanced search option and the ability to find bank executives using LinkedIn and Jigsaw.
Understanding of which banks are looking to sell and how to find the contacts and build the relationships.
The information on how to find banks that are selling NPN's
The software saves me loads of time on research. I am able to contact far more banks daily now that ever.
The data is very well organized. It was intimidating at first but the training modules are excellent.
The WOW Factor! Everything is there!
I am new to this industry, I just signed on a couple of weeks ago, I like and appreciate all the information you send out which helps me understand more about this industry and how to easily navigate through your website. Plus the cost is affordable for someone just starting out.
The information about the health of the bank in a single glance is great! The podcasts are extremely informative and helpful. I wouldn't gather that knowledge anywhere else in my current position.
REO data on banks. The program as it now is, makes my life a lot easier getting to the right banks.
The information is compact which saves me tine trying to find out which banks are healthy enough to sell their non performing non-accural notes. the ability to watch and save searches, selections of banks down to the zip code level and more. I like the ability to do advanced searches to drill down quickly to what I'm looking for.
Search for banks that are actively selling notes. Narrows my search a great deal.
Already sent one feedback; this is a second "send". Quick access to exactly the banks which have exactly the product I'm looking for. Ability to target banks who have high enough capital rations, non accruals, charge offs and trending up! Fantastic!
Getting down to the banks I need to talk to … out of the thousands of others.
lets me know in an instant if the bank has any troubled assets.
Banks likely to sell or not sell. What is most on their books, and if there selling right now.
The best tool I've seen for targeting regional and smaller banks with bad paper-I just purchased Lane 2 weeks ago and i bought yours any way
Cancellation Policy
You may end your subscription from inside our support forum at any time without having to talk to anyone. We'll also email you a link to cancel during your trial.
Login to the support panel and use the cancellation form provided there or else submit a ticket with your username and email (method requires 48 hours notice), tell us that you'd like to cancel, and tell us why (if you don't mind).
Refund Policy
You will not be charged during your trial period time. If you request a refund on the day you are charged for the first time before 5PM EST it will be granted, no problem. Refund requests after that and in the first 30 days will be subject to administrative and transaction fees ($50). No refunds will be granted after 30 days for any reason.
Read Our End User License Agreement – You are agreeing to this when you start your trial.